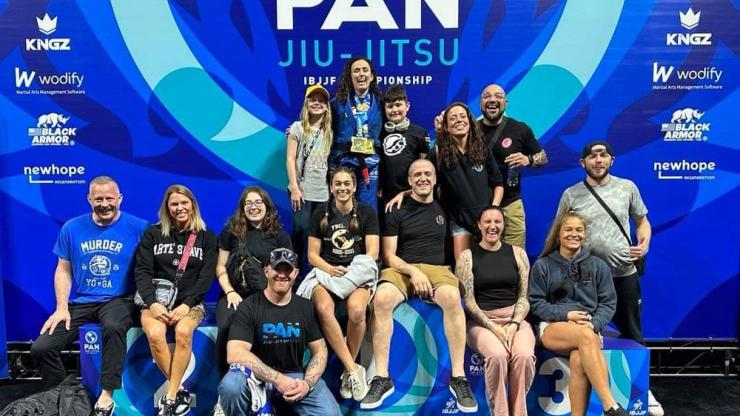 The first major tournament of the year started Wednesday, March 22nd. We had a total of 19 students from White to Black Belt travel to Orlando, Florida competing over 5 days.
Coach Ray & Rachel have been working with the team helping them prepare for the event. For some, it was their first time competing at the Pans. Those who have competed in the past have been very helpful and provided the first timers with additional insight.
Coach Ray has been teaching a competition class which focuses on connecting/chaining student game plans together. This class has been very beneficial, not only for the competitors but all students who have attended the class. In comp class, students aren't learning just how to connect the dots but also how to work out of potential bad positions.
We are very proud of everyone who put it on the line this week. We had some wins and some losses but regardless of the outcome everyone did amazing! Each student left it all on the mats and tried their hardest.
Out of 19 students, we brought home a total of 12 medals, 11 from TBJJA Spring Hill and 1 from Phoenix MMA & Fitness, which is one of our affiliate gyms.
A big congratulations to Coach Rachel for her 10th Pan American title.
Phoenix MMA & Fitness
Hunter Gregory – 1st Place – Master 1 / Male / Blue / Light
TBJJA Spring Hill
Johnny Melchiorre – 2nd Place – Master 1 / Male / Blue /Super-Heavy
2nd Place – Master 1 / Male / Blue / Open Class
Jerry Robinson – 3rd Place – Master 2 / Purple / Super Heavy
Deanna Fallon – 3rd Place – Master 2 / Female / Purple / Heavy
3rd place – Master 2 / Female / Purple / Open Class
Kassidy Riley – 3rd Place – Master 3 / Female / Brown / Middle
Chris Matthews – 2nd Place – Master 3 / Female / Brown / Medium Heavy
Rachel Casias – 1st Place – Master 3 / Female / Black / Middle
3rd Place – Master 3 / Female / Black / Open Class
Bradley Steinborn – 3rd Place – Master 4 / Male / Black / Super-Heavy
3rd Place – Master 4 / Male / Black / Open Class