LETTER FROM COACH RAY
Dear students,
We wanted to take a moment to express our sincere gratitude for your unwavering support over the years. It has been our pleasure to provide top-notch Brazilian Jiu-Jitsu training to our community, and we couldn't have done it without your dedication and enthusiasm. We are excited to announce that we will be launching a monthly newsletter to keep you informed about upcoming events, promotions, training tips, and more. We believe this will be an excellent way to stay connected with our students and keep you up-to-date on everything happening at our school.
We encourage you to sign up for our newsletter and share it with your friends and family who might be interested in learning more about BJJ. We are committed to providing the best training and experience possible, and we believe our newsletter will help us achieve that goal.
Thank you again for your support and dedication to our school. We look forward to continuing to provide you with the highest quality BJJ training available.
Sincerely,
Ray Casias
---
UPCOMING EVENTS
Below are some important dates to remember and plan for.
Mothers day May 14th CLOSED.
Memorial Day May 29th CLOSED (except open mat).
Memorial day WEDEFY Open mat (more info coming).
AGF tournament June 3rd Murfreesboro TN
 In-house kids Gi tournament June 10th.
Kids camp June 12th-16th
---
CONGRATS KASSIDY RILEY ON YOUR BLACK BELT!

We are thrilled to announce the promotion of Kassidy Riley, one of our female students, to the rank of black belt in Brazilian Jiu-Jitsu! This is an incredible accomplishment that reflects Kassidy's years of hard work, dedication, and passion for BJJ. We are honored to have
Kassidy as part of our team and can't wait to see her continue to inspire and empower others in the BJJ community. Please join us in congratulating Kassidy on this remarkable achievement!
---
TRAINING TIPS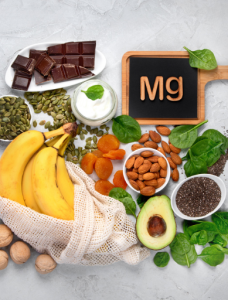 "Unlocking the Benefits of Magnesium:
How This Mineral Can Enhance Your BJJ Performance and Recovery
Magnesium is a mineral that is essential for many bodily functions, including muscle and nerve function, blood sugar regulation, and bone health. For those who train in Brazilian Jiu-Jitsu, magnesium can provide several benefits. It can help reduce muscle cramps and soreness, improve muscle recovery after intense workouts, and support bone health to prevent fractures and injuries. Magnesium also plays a role in maintaining healthy energy levels, which is crucial for BJJ athletes who require endurance and stamina during training and competition. If you're looking to improve your performance and recovery in BJJ, consider incorporating magnesium-rich foods such as spinach, almonds, and avocado into your diet or taking magnesium supplements under the guidance of a healthcare professional.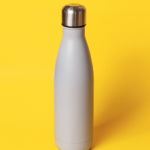 Keeping a water bottle with you at all times is an excellent way to stay hydrated, especially if you train in Brazilian Jiu-Jitsu (BJJ). By having a water bottle within reach, you can sip water regularly throughout the day, replenish fluids lost during training, and prevent dehydration. It's essential to choose a water bottle that is durable, easy to carry, and has a capacity that meets your hydration needs. Ideally, your water bottle should be made of a non-toxic material such as stainless steel or glass to avoid leaching harmful chemicals into your water. Remember to clean your water bottle regularly to prevent the buildup of bacteria and mold, and to refill it with fresh, clean water throughout the day.
---
STUDENT SPOTLIGHT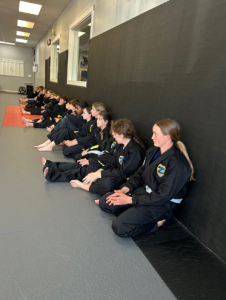 "Rising Champions: Our Kids Competition Team Dominates in BJJ Tournaments"
Our kids competition team is in full swing preparing for the upcoming Kid's Pan American Championships in Florida. Our young athletes have been working hard, both on and off the mats, to improve their skills and technique for the competition. With the support of our experienced coaches and the dedication of our team, we are confident that our kids will excel in the tournament. The Kid's Pan American Championships will be an excellent opportunity for our team to showcase their talents, build their confidence, and gain valuable experience competing at a high level. We can't wait to see our kids in action and cheer them on as they represent our BJJ school with pride.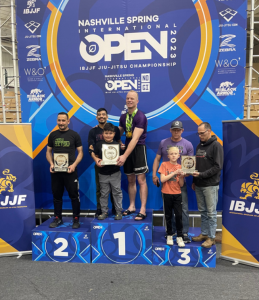 "Champions on the Rise: Team Zenith Takes First Place in BJJ Competition"
We are thrilled to announce that Team Zenith has taken first place in the recent Nashville NO GI Open BJJ competition! Our dedicated and skilled athletes put on an impressive display of technique and strategy in every match, and their hard work and determination paid off in the end. Our team's commitment to excellence and their unity as a team were key factors in their success, and we are incredibly proud of their achievement. This victory is a testament to the quality of training and coaching at our BJJ school, as well as the support and encouragement of our community. We look forward to continuing our success in future competitions and representing Team Zenith with pride. Congratulations to all of our competitors!